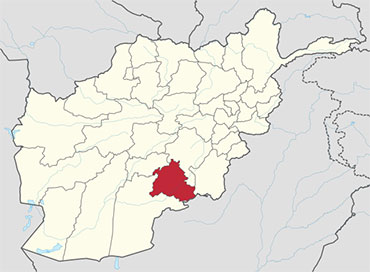 Zabul is one of the 34 provinces of Afghanistan, located in the south of the country. It has a mostly rural population of about 289,300. Zabul became an independent province from neighbouring Kandahar in 1963. Historically, it was part of the Zabulistan region. Qalat serves as the capital of the province.
Geography
Zabul borders Oruzgan in the north, Kandahar in the west and in the south, Ghazni and Paktika in the east. It shares a border with Balochistan, Pakistan, in the south.
The province covers an area of 17293 km2. Two-fifths of the province is mountainous or semi mountainous terrain (41%) while more than one quarter of the area is made up of flat land (28%).
The primary ecoregion of the province is the central Afghan mountains xeric woodlands. Common vegetation is listed as dry shrub-land and pistachio. The high mountains of the northern portion of the province are in the Ghor-Hazarajat alpine meadow ecoregion, which is characterized by meadows, willows, and sea buckthorn.
Healthcare
The percentage of households with clean drinking water increased from 0% in 2005 to 32% in 2011. The percentage of births attended to by a skilled birth attendant increased from 1% in 2005 to 5% in 2011.
Demographics
The total population of the province is about 289,300, which is mostly a rural tribal society. According to the Naval Postgraduate School, the population is primarily Pashtun, sprinkled throughout around 2,500 remote villages. Major tribal groups include the Tokhi and Hotaki Ghilji and the Noorzai and Panjpai Durrani.
Pashto is the dominant language in the area. The people of Zabul are overwhelmingly Sunni Muslim. Primary occupations within Zabul are agriculture and animal husbandry.
Districts
Zabul province is divided in to 11 districts.
| District | Population | Area |
| --- | --- | --- |
| Arghandab | 31,700 | |
| Atghar | 8,400 | |
| Daychopan | 38,300 | |
| Kakar | 23,400 | |
| Mizan | 13,400 | |
| Naw Bahar | 18,300 | |
| Qalat | 34,300 | |
| Shah Joy | 56,800 | |
| Shamulzayi | 25,100 | |
| Shinkay | 22,900 | |
| Tarnak Aw Jaldak | 16,700 | |