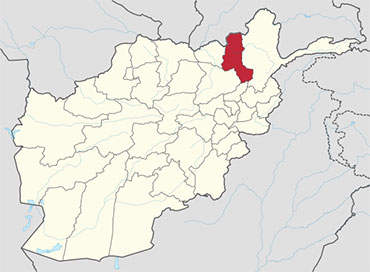 Takhar is one of the thirty-four provinces of Afghanistan, located in the northeast of the country next to Tajikistan. It is surrounded by Badakhshan in the east, Panjshir in the south, and Baghlan and Kunduz in the west. The city of Taloqan serves as its capital.
The province contains about 17 districts, over 1,000 villages, and approximately 933,700 people, which is multi-ethnic and mostly a rural society. The major ethnic groups in the province are Tajiks and Uzbeks followed by Pashtuns, Hazara, and others
History
Between the early 16th century and the mid-18th century, the territory was ruled by the Khanate of Bukhara. It was given to Ahmad Shah Durrani by Murad Beg of Bukhara after a treaty of friendship was reached in or about 1750, and became part of the Durrani Empire. It was ruled by the Durranis followed by the Barakzai dynasty, and was untouched by the British during the three Anglo-Afghan wars that were fought in the 19th and 20th centuries. It remained peaceful for about one hundred years until the 1980s Soviet war in Afghanistan.
It was established in 1964 when Qataghan Province was divided into three provinces: Baghlan, Kunduz and Takhar. During the 1980s Soviet war in Afghanistan, the area fell under the influence of Rabbani and Ahmad Shah Massoud. It was controlled by the Northern Alliance in the 1990s. It experienced some fighting between the Northern Alliance and the Taliban forces. Takhar holds notoriety as the location where Mujahideen Commander Ahmad Shah Massoud was assassinated on 9 September 2001 by suspected al-Qaeda agents.
Demography
The population of the province is about 933,700, which is mostly tribal and a rural society. The main inhabitants of Takhar province are ethnic Tajiks which make almost 66% of population, followed by the second largest groups, the Uzbeks. The remainders are Pashtuns, Hazaras, Pashai, Kho and Turkmen. There are also a population of Kuchis (nomads) whose numbers vary in different seasons.
Economy
Agriculture and mining are the main industries of the province. Takhar has coal reserves of fairly good quality which are being exploited by hand in some villages and sold in the region. The local population considers gold the most relevant resource for the Province. Gold is being washed in Takhar River, and about 2 kg are being transported to the specific weekly markets in the city of Taloqan. Also the city is a main source of construction materials like: loam, sand, and different types of stones. Takhar province is known for its salt mountains and you can find large deposits of fine salt in the region. The Takcha Khanna salt mine is one of the growing number of salt supplier, for the population of Takhar and northern Afghanistan. While the mines offer economic opportunities in the region, the availability of iodized salt considerably reduces the prevalence of health problems related to iodine deficiency.
Districts
Takhar province is divided in to 17 districts.
| District | Population | Area |
| --- | --- | --- |
| Baharak | 40,902 | 231 km2 |
| Bangi | 28,197 | 566 km2 |
| Chah Ab | 64,151 | 764 km2 |
| Chal | 24,596 | 330.8 km2 |
| Darqad | 25,771 | 393 km2 |
| Dashti Qala | 35,347 | 280 km2 |
| Farkhar | 79,864 | 1,214 km2 |
| Hazar Sumuch | 9,774 | 309 km2 |
| Ishkamish | 51,153 | 806 km2 |
| Kalafgan | 28,122 | 479 km2 |
| Khawajah Bahawodin | 26,280 | 178.2 km2 |
| Khwaja Ghar | 44,909 | 402 km2 |
| Namak Ab | 11,563 | 584 km2 |
| Rustaq | 248,780 | 1,939 km2 |
| Taluqan | 194,471 | |
| Warsaj | 33,506 | 2705.3 km2 |
| Yangi Qala | 39,398 | 247 km2 |