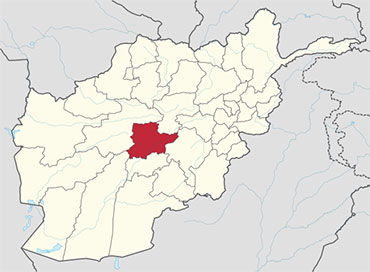 Daykundi sometimes spelled as Daikundi, Dāykondī, Daikondi or Daykundi, is one of the thirty-four provinces of Afghanistan, located in the central part of the country. It has a population of about 723,980, which is a Hazara Province.Daykundi Province falls into the traditionally ethnic Hazara region known as the Hazaristan and the provincial capital is Nili. It is surrounded by Ghor in the northwest, Bamyan in the northeast, Ghazni in the southeast, Urozgan in the south, and Helmand Province in west.
Formation
Daykundi was established on March 28, 2004, when it was created from the isolated Hazara-dominated northern districts of neighboring Oruzgan province.
Development and Security
Since the establishment of the province nearly a decade ago, the province has extended its security having the best of all provinces and has increased education surpassing even Kabul in the number of those passing university entrance exams. The province, began its transition in December 2011, maintains its own security through the Afghan police and military.
While the Government of Afghanistan, NGOs, the United Nations, and NATO's ISAF forces have had little involvement in reconstruction in the province, there have been some initiatives. Following heavy rainfall and flooding in February 2007 the United Nations Assistance Mission for Afghanistan (UNAMA) opened a sub-office in the province[4] and Oxfam, one of the few NGOs operating in the province, described UNAMA's input into coordinating flood relief as impressive.
In November 2007 a World Food Programme convoy carrying mixed food aid was forced to abandon its mission due to security concerns and Afghanistan's Interior Ministry confirmed that Taliban insurgents had infiltrated the southern district of Kajran in a bid to destabilise the province. On 11 November 2007 Afghan forces launched a military operation to drive out the insurgents.
The United States began building new government institutions in the province. The insurgency problem and shortage of food continued until 2012. Several government officials have warned in October 2012 that "If the government or NGOs (non-governmental organization) do not address the situation with proper assistances, Daikundi would witness many deaths this winter." In the meantime, a rebel leader along with his 150 fighters joined the government-initiated peace drive in Nili, capital of Daikundi province.
Demographics
The total population of Daykundi province is estimated to around 723,980, which is multi-ethnic and mostly a rural tribal society. The ethnic Hazaras make up 86% of the total population of the province followed by Pashtuns at 8.5%, Balochs 3.5% and Sayyids 2%. All the inhabitants follow Islam, with Shi'as the majority and Sunnis as the minority. Languages spoken in the province include Dari, Hazaragi, Pashto, and Balochi.
Districts